SAVE THE DATE: Athena's World Intellectual Property Day 2022 event
SAVE THE DATE: Athena's World Intellectual Property Day 2022 event
Live event on 21st April 2022, follow-up mail on 26th April 2022.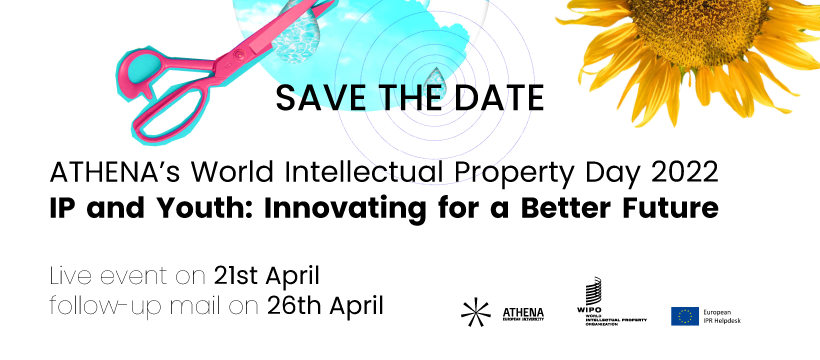 Moderated event will be held in English and in online format with live lectures/presentations. The purpose of the event is to promote Athena network, university-industry collaboration and highlight the importance of IP among our primary target audience. Theme for this year is "IP and Youth: Innovating for a Better Future" and it is in line with Athena's general and WP6 activities (industry collaboration; technology transfer, PRAXIS network etc.).
More about WIPO World IP day 2022: https://www.wipo.int/ip-outreach/en/ipday/2022/about.html
Primary (target) audience: Senior Master Students, PhD Students, Postdoc Students, Alumni.
Secondary audience: SMEs, Industry Partners, Researchers, Startup Community, General Public.
Live event: 21st April 2022, starting at 12.00.
Follow-up email (can be "localized"): 26th April 2022 (launch of recorded videos from the live event, additional information with contacts to Liaison/TTO office, IP related information, brochures, recorded lectures etc.).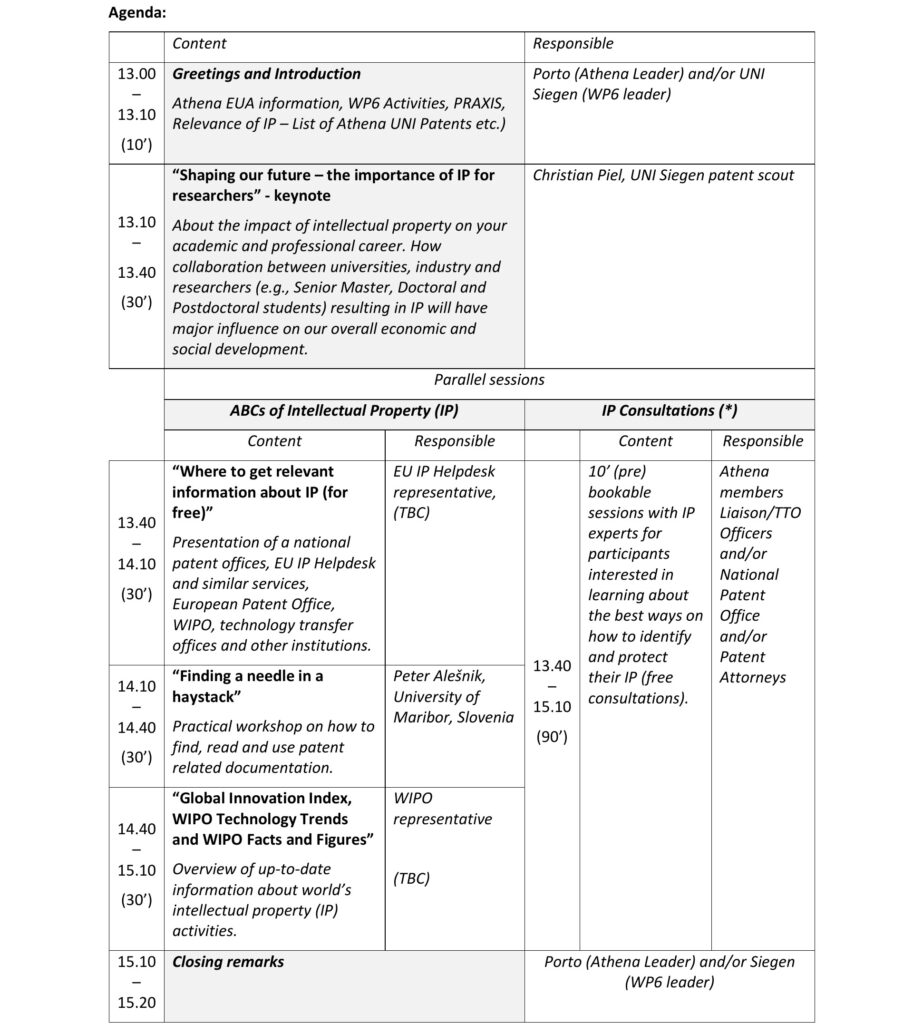 (*) IP consultation is a quick & free advice with emphasis to facilitate promotion of Athena's members expertise organized in a form of a 9 X 10' (pre)bookable sessions per expert. Consultation is "localized" and primarily (but not limited) offered by the members' Liaison/TTO Offices to their pool of participants (UNI Siegen to UNI Siegen students, UNI Maribor to UNI Maribor students etc.). To broaden the scope of advice we should invite also National Patent Office representatives (may be available to all participants) and/or Patent Attorneys (may be available to all participants) etc.
---
More news